I was so lonely this Sunday Evening as I hadn't gone outside anywhere and to have some fun I wanted to go to a movie. My first choice was Kamal Hassan's "Virumandi", but couldn't manage to get the ticket. Second choice was Mamooty's "Sethuramayyar CBI" 3rd part of Malayalam Superhit "Oru CBI Dairy Kurippu", alas! I couldn't get a ticket for it even in Coimbatore. Then came sultry Bipasha Basu's "Aetbaar" but I came to know the movie was taken off from the theatres. I had only one choice left - i.e "Khakee".
I had some expectations about the movie because I have a high regard for its director "Rajkumar Santhoshi" and his ability to extract the best from his artistes. Moreover the cast comprised of very talented Amitabh Bacchan, Ajay Devgan, Akshay Kumar, Aishwarya Rai, Atul Kulkarni, Tusshar (Kapoor), Jayapradha, Tanuja & our own Prakash Raj. But I never expected that the movie will be a spectacular feast.
The movie had a dynamic opening sequence and when the bullets pierce the shutter to give a sieve effect before the credits roll, you really sit up only to be in that posture till the last shot of the movie. The span of the movie is 18 reels and I never felt the longevity until I left the movie hall to reach the room at 10:30 p.m. "nalla pasi, ella kadaiyum moodi irunthathu".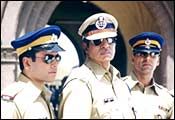 The story is woven with some sudden twist and turns especially one on outburst of Atul Kulkarni & second on the encounter on Akshay Kumar. I can't say who the characters are, else if I do the whole watching will be spoiled. When DCP J. P Naidu (Prakash Raj) assembles a team of four cops Akshay Kumar, Tusshar, & two, headed by Amitabh Bacchan, he didn't realise that his mission was in danger. The mission was to bring an alleged ISI agent Ansari (Atul Kulkarni) from a place called Chandanghad to Mumbai for a trial. Another team headed by the bad cop Ajay Devgan wants to kidnap Atul Kulkarni. What is the end forms the climax. Aishwarya Rai is the only female character entrapped in the whole mission.

The movie made news for wrong reasons, one is the replacement of Akshaye Khanna by Tusshar and accident of Aishwarya Rai in the movie sets. But when it comes to the screen, it is easily the best movie seen in its times.
The movie boasts of several South Indian Talents. Cinematography by our own K.V Anand is world class. He rightfully decided on the look of the movie. It is not colourful splashed with all brighter shades but has a strong undercurrent of sepia tone through out the movie to maintain its starkness. The flash back scenes were shot in shades of green which makes you empathise with the characters without distraction. Helicopter shots & a cow market chasing scene were of world standards. The action sequences by Tinnu Verma is mind blowing. The special effects didn't interfere with the artiste's performance.


Screenplay by Shridhar Raghavan is fantastic and he has managed to hold your attention despite the length of the movie. The movie is tightly edited which could have been made crisp by chopping of the song sequences which were actually speed breaker of this fast paced flick. The of the two twists one can be easily guessed and another is totally unexpected.
Performancewise everyone had give a dynamic performance but ultimately it is Amitabh Bacchan's role that is strongest. The veteran does justice to the role including the complete transformation in body language of an old cop. His facial expressions of excitement, angst against ignorance of the people and complete confusion were distinct. Next to him comes the reformed bad cop Akshay Kumar's comical role. Akshay replays his real life persona- a casanova. Tusshar and Aishwarya Rai plays heir role subtly but more than their performance, it is their characterisation that stands out of the odd.
The Marathi actor who played the role of Head Constable Kamlesh excells in that role. His wife played by Kashmira Shah (?) is powerful performance even if she comes in only two scenes. Tanuja (Kajol's mom) leaves an impact on you even if she comes for 3-4 scenes. Praksh Raj is fine but why on the earth the actor had his lines dubbed by anyone else. This is the same Prakash raj who spoke a chaste Sinhalese in "Kannathil Mutthamittal" and literary lines in "Iruvar", even though Tamil & Sinhalese were not his mother tongue. Since character is a Naidu, he must have dubbed for himself with a South Indian accent.
On the down side, it is the music, that could have been still better. The songs are highly avoidable and the background score pains your ears at parts where the silence could have given a better effect. It is a racy thriller with a big start cast. The box office verdict as well as the critical acclaim goes together for this movie and it is highly recommeded to watch. It will be better if you do it in a movie hall, no problem if you watch it in a good quality sound DVD. On the whole a movie not to be missed.

After seeing this movie and a nice Malayalam movie called "Manassinakkare" I have decided to watch only Hindi & Malayalam movies. Atleast they are honest to scripts and characters. The stars are cast based on the characters. It is really nice to hear the scripts are written before casting. But in Tamil stories are woven to enhance the images of the heroes who dreams of becoming tommorrows political leaders. Eg. Vijay, Ajith, Prashanth, not only talented star like Vikram who had done offbeat roles in Sethu had fallen prey to this mania, but also the new comers like Simpu and Dhanush had joined the bandwagon. My recent experiences of "forced" watching movies like "Jai" and "Engal Anna" were terrible. Even "Alibaba" Prashanth vidra bandha thaangalai, so do Annan Vijayakanth. All the character are over-aa pugazhnthufy these heroes. Eg. Prahsanth says "ennaya vida Aishwarya Rai-ya evanukku close aa theriyum?", "naan oru veeranai kaadhalikkirein, avan ennai kaappathittu povaan" So hero comes and rescues her single handedly even after shot in his chest. After a fight, he asks in the last "Kalyanam pannikittu hospital polama, illai Hospital poittu Kalyanam pannikkalama?" Fucker, if in real life he had a bullet in his chest he can't stand for weeks together if he survives. I beat my cousin black and blue for playing that movie in home. In Engal anna, despite the good story, all the characters eulogise Vijayakanth irrespective of age.
Related Articles/Posts