Culture, heritage and history of any place can be known through the ancient structures and buildings it has inherited. Temples are places of worship of the Hindus and most of these are architectural marvels. Through these places you can learn about the history of the place and also know about its past culture and the traditions that have been passed down the line.  The architecture of such erections varies from place to place. In south India most of such edifices had used the Dravidian style of architecture. Let us explore the area and know about such gems that have been shining since ages.
1. Meenakshi Temple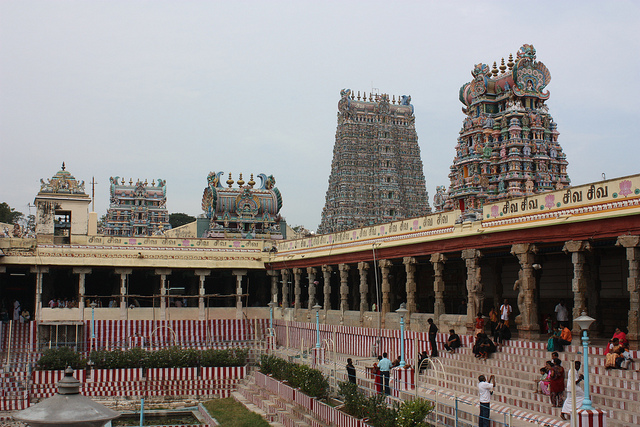 Photo by Arian Zwegers, CC BY 2.0

Here Parvati is worshipped as Meenakshi and hence the name. She is accompanied by her consort Sunderashawarar a form of lord Shiva. Madurai is proud to house this temple with 985 intricately carved pillars and each one differently. Devotees coming here take a dip in the lotus pond considering it to be auspicious.

2. Ranganathaswamy Temple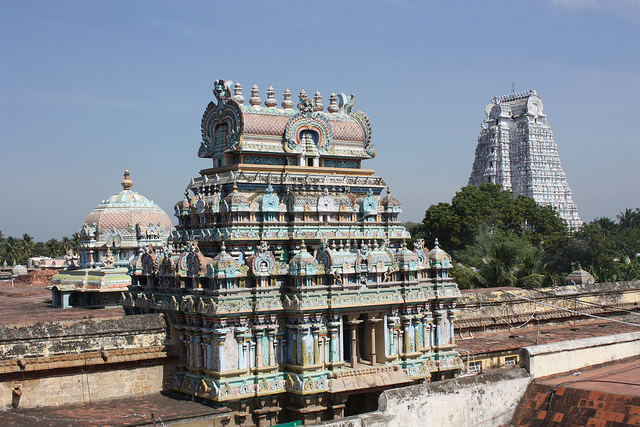 Photo by Arian Zwegers, CC BY 2.0

The deity at the 10-century temple is a reclining Vishnu and worshipped as Ranganatha. Millions visit Srirangam this temple every year. This largest temple of India perched on a river island has seven enclosures which the devotee has to cross to worship the main deity. It has 21 splendid towers in these enclosures, which proffers a magnificent sight to the beholder.

3. Brihadeeswara Temple

 
Photo by Raj, CC BY 2.0

Located in Tanjavur this temple is bestowed to Lord Shiva and is constructed as per the science of architecture and principles of religion. The deity of this 11th century is known as Rajarajeswaram here and the temple is also called Peruvudaiyar. At noon, no shadow is formed of this wonderful structure and this is its remarkable feature. 

4. Tirupati Temple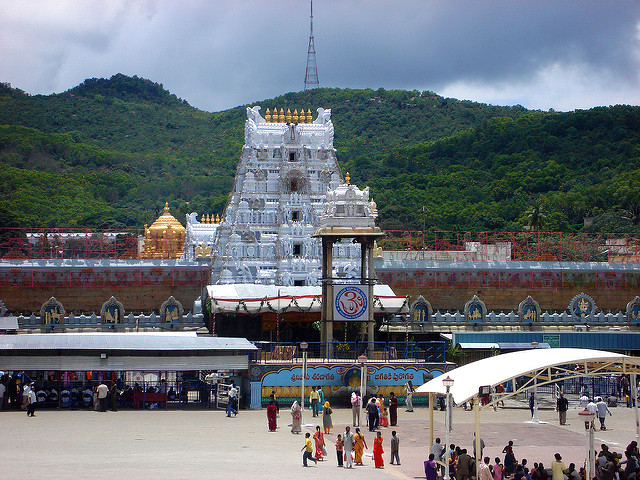 Photo by Chandrashekhar Basumatary, CC BY 2.0

Among the hilly terrains of Tirumala is a temple of Venkateswara which is the presiding deity here. Also known as Balaji this incarnation of lord Vishnu is worshipped here by thousands of pilgrims every day. With their donations and offerings it has become one of the richest temples of India. The prasadam distributed as laddoo is famous globally.

5. Narasimha Temple

 
Photo by Nagarjun Kandukuru, CC BY 2.0

Dedicated to Lord Narasimha is a small shrine nestled on a hillock at Nampally Gutta. To reach this deity one has to walk through a tunnel that is built in the form of a snake's belly. Different statues placed here tell the story of Prahalada a Vishnu devotee and his father Hiranyakashyapu. The snake statue the largest anywhere is to be seen to be believed.

6. Virupaksha Temple

 
Photo by Jean-Pierre Dalbéra, CC BY 2.0

Situated in Hampi this 7th century temple is one of the popular Shiva temples India still stands tall and is an architectural wonder. Built during the reign of Vijayanagar Empire it is dedicated to Shiva and Parvati worshipped as Virupaksha and Pampapathi.  A betrothal ceremony celebrated every year in December draws thousands of devotees to its fold.

7. Murdeshwar Temple

 
Photo by Sam valadi, CC BY 2.0

Bound by the Western Ghats and the Arabian Sea is a picturesque place Murudeswar which is both a temple town as well as a beach resort. The tall Shiva statue perched on a hill on the beach side and engulfed by sea on three sides is one of tallest in India. Views of the sunset from here is enthralling. 

8. Vidyashankara Temple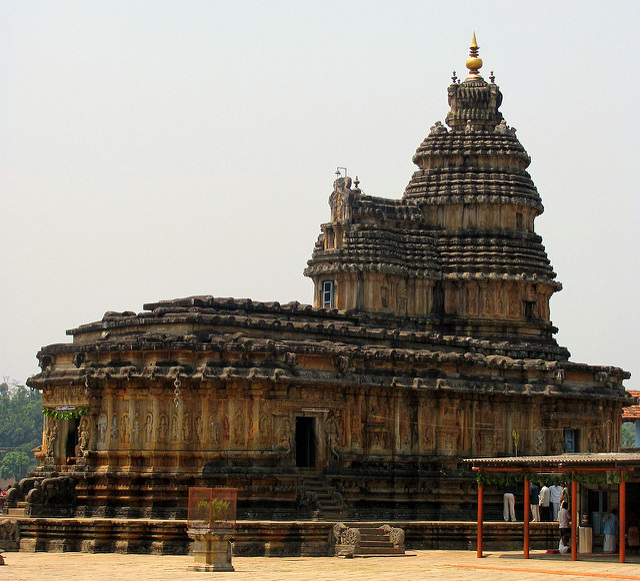 Photo by Ashok Prabhakaran, CC BY-SA 2.0

Standing on an opulently carved basement this 14th century temple is built with the combination of Dravida and Hoysala architecture. The main deity is of Lord Shiva is worshipped as Vidyashankara. The arrangement of the twelve pillars of the temple is such that on each of the solar month of the Hindu calendar the rays of the sun falls on each of these.

9. Sri Padmanabhaswamy Temple

 
Photo by Pranav, CC BY 2.0

The elegant main deity of lord Vishnu is found to be reclining on Anantha a snake with five hoods. From the navel of this statue a lotus appears, on which is a brahma statue seated. A Shiva Linga is found below the stretched out right palm. Thus, all the powers of brahma, Vishnu and Shiva are found to be combined.

10. Guruvayur Temple

 
Photo by Ramesh NG, CC BY-SA 2.0

The legend goes that the idol of lord Vishnu here is consecrated by Vayu the wind god and Brihaspati the teacher of guru of the gods. Thus its name. The priests follow the rituals here quite strictly. Taking a dip in the temple pond Rudratheertham is considered auspicious. Several elephants donated by the devotees reside here and are well taken care of.

Temples in south India are visited not only to worship the deity but also to have a look at the awesome architecture that they are built of.

Author Bio:
A traveller and blogger has extensively travelled in India and his write ups on Trans India Travel include all the encounters he has had.