20/05/2009 - It was a sultry day in Dubai and the pressure of post - Blueprinting stage had just started taking a toll. The endless meetings, demands from the business people and the "tactics" of the Project Managers to get the best from the team members by "squeezing" them had started driving me crazy. Among all these odds, previous day somebody had mailed me thanking for uploading the S.Ve Sekar dramas and had asked for the Cho dramas. I replied him saying that I'll upload them when I get those stuffs. After we came from lunch (I believe I went out with Jishore that day), I saw that an "invitation" for chat from the person who mailed me yesterday. Normally I don't accept chat invitations from the strangers due to some earlier bitter experiences. But don't know why, I accepted that chat invitation and that single mouse click became a significant event by itself.

The person introduced himself as Vijayakrishnan from Melbourne and within few minutes we felt an uncanny familiarity that we kept chatting like long lost friends. Days passed by and the bonding just got stronger with each chat sessions. Meanwhile the urge to be together forever made me act on the Immigration plan which once I enquired a couple of years ago. It was the choice between Canada or Australia and Vijay's presence tilted the scale to Australia. We exchanged the numbers, messaged (the first SMS was about enquiring his maiden Pav Bhaji attempt), called each other when possible and started looking forward for the physical meeting. And... that day too arrived.

This is our first ever chat conversation.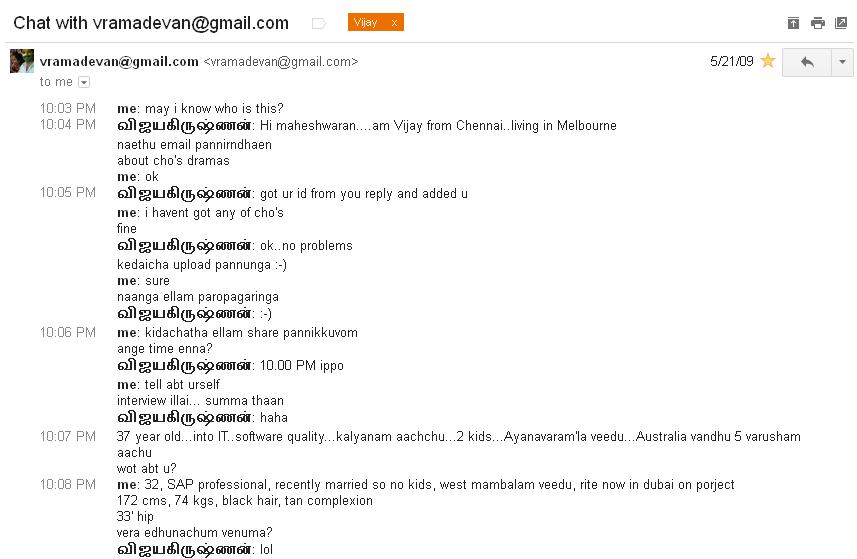 We met outside my office quite unaware and he took me to the home. This is the first instance he genuinely sweeped me off. I had many instances where people become "friends" and are intrested in only having a good time but they won't want to proceed further. They won't talk about the family members, not intrested in know your family either. But Vijay introduced me to his family and his wife Meera & daughter Samyuktha immediately recognised me even before Vijay formally introduced me to them. It proved that this guy is genuinely treating me as a part of his circle.

Next he visited my house and only my mother was there at home that day. He chatted with her and spoke about my plans for Australian Immigration. My mother said that if Mahesh works on migrating to US, it would be fine because my sister is in US so that both of them are in a same place (country though). Vijay said "I am there... believe in me and send Mahesh", the word he kept years later.

During the chat he said that they were building a Lord Ram shrine with the contribution from only the family members. When I went to his home he said that he had given Rs. 500/- as my contribution as he considers me as a family member. I was completely floored. (Similar thing happened much later. When I visited Paranthaman, my college friend now based in Melbourne, he said that he was under the impression that Vijay was my family friend so that I chose to live with him instead of with Paranthaman. That evening while walking back to home from the Epping station, I told Vijay this comment. He immediately responded like this - "So what... we are now a family"). After that we met again after an year for a brief period of an evening when he came to India for 3 days and by this time we are completely aware of each other - in and out.

When I got my PR, it was unspoken but understood that I am going to be with him in the initial days. He had told my wife that he wants me to stay with him till a month after I get my job. The day before I was leaving to Melbourne I called him, spoke with Meera and the warmth they showed in receiving was just overwhelming.

When even the relatives are not ready to help someone, this guy who knew me only through the web that could have been deceiving, is going out of his way to help me start a life in a new country. I could have been a smooth talking manipulator who tricks & cons people, or something unmentionable which didn't show up in the chats... but the way Vijay & Meera believed and helped me is something I can be indebted for always. To compound the ovewhelming effect, it is not just Vijay & Meera, his in-laws too pamper me and make me feel comfortable at home.

I am slowly settling down, and even after months of reporting to work, I am with them at their home feeling comfortable as if I have been with them since the start. Many times I couldn't even believe that all such good things are happening to me. It just looks like we had met recently
Today we have completed the 4 years of friendship and I pray God that we be together for long and if He permits.. forever. Every year it used to be a post in my blogs but this year it is exciting to spend time with Vijay physically. Vijay.. I know I embarass you in front of others with such explicit display of affection through hugs and words but I couldn't resist doing it one more time in front of the netizens by saying this - "I Love you a lot". Infact I love everything Vijayakrishnans - Adarsh, Samyukta, Meera, Uncle, Aunty, Madhu, Kumari, Venkat... I just pray once again that this good thing must last long and I should never let you out of my life. I hope you too feel the same (without being embarassed).

{iframe width="500" height="400" }http://www.rvijayakrishnan.com/index.php?option=com_content&view=article&id=65:much-awaited-meeting&catid=113&Itemid=112&tmpl=component&print=1&layout=default&page={/iframe}