Actually I was very apprehensive about watching 'Kahaani' before its release. I thought that it would be an emotional drama about a pregnant woman coming in search of her missing husband. Also I thought that "Dirty Picture" is a fluke hit of Vidya which got its initial through the titilating factor, so banking on 'Kahaani' is a sureshot flop. I thought that after "Dirty Picture", Vidya Balan had gone over confident that she can sell a movie on her name. I invented a new theory that there could have been a powerful lobby to get National Award for Vidya Balan so that it can give a boost to 'Kahaani' which will find a few takers. But.. but... whenever I had apprehensions about Vidya Balan, she always proved me wrong. I watched 'Kahaani' only for Vidya Balan but the movie had hit me like a thunder bolt.

Such an awesome movie that I am still under its spell even after a few days of viewing. Kahaani is one of the best 'whodunit' genre movie that had come in Indian cinema. There were speculations that it is a rip-off from Tarantino's "Kill Bill", but the script is simply original. May be because the audience's perception about pregnant Vidya balan in the promos and the final product in theatres were radically different, there was a surprise / sweet shock for them and this shocking factor had worked a big time.

A heavily pregnant Vidya Venkatesan Baagchi, in her third trimester, lands in the Kolkatta Airport and much to the surprise of the taxi driver she drives straightly to the police station and complaints about her missing husband, an National Data Centre employee who came to India on a two week assignment. She is fully convinced that her husband is alive in some corner of Kolkatta. But Vidya faces serious threats from the IB officer asking her to go back. So she takes the responsibility of investigating the mystery of her husband's disappearance and all the roads lead to a rivetting climax. I miss the loud whistles, hoots and cat calls in the cinema hall for the climax, which is a rare occurence for a heroine's performance.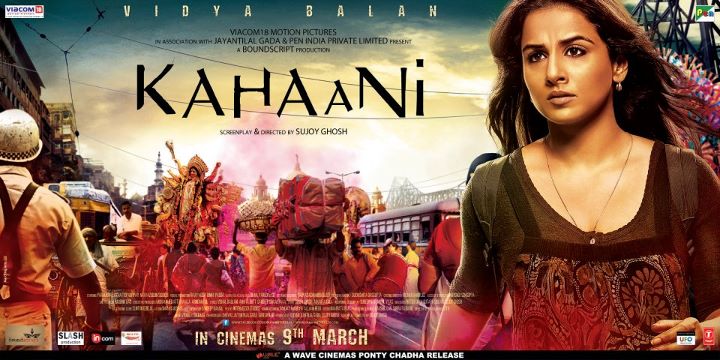 All through the movie, Sujoy keeps giving cues hoping that audiences can collect and complete the final picture by the time climax comes. I saw 'Kahaani' again by co-ordinating all the clues which I had seen in the previous viewing. It is one movie where everything falls in right place at right time. Whether it is the stark cinematography by Sethu, credible performances by the lead players or even the locations where the movie was shot. Kolkatta never looked so vibrant in any of the movies which I had seen. The essence and the soul of the "City of joy" is nicely captured in the backdrop of Durga pooja. The subtle hint of Durga as the metaphor of the story is nicely accentuated by the song rendered in the baritone voice of Amitabh Bacchan. Music by Vishal Shekar is purely functional and I believe that they too knew the fact that it is not musical, so stayed well within the parameters of the story.

It is one of the rare cases where the movies get a perfect casting. Even the small roles like "running hot water" Vishnu, Shubroto, LIC agent Bob Biswas or constable Chatterjee, the casting director Roshmi Banerjee had done a wonderful job. Am I missing out somebody?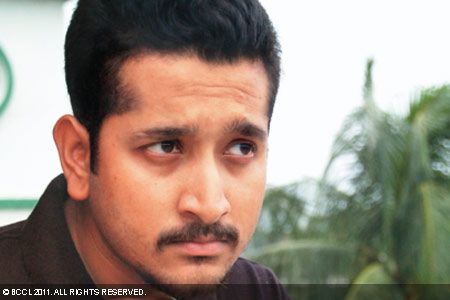 No, I want to single out the performances of Vidya Balan and Parambrata (pronounced as Porombrato) Chattopadhyay which takes the movie to an altogether new level. To say that Vidya had acted well is like saying "sun is hot", which is an universally known fact. But matching her histrionics is hard for any male actor in Indian cinema today and Parambrata achieves it almost effortlessly. As a saviour Rana to Biddha Bhachi, Parambrata is a refreshing change from the six pack male models clamouring on the Bollywood screens. I want to see the Bengali movies of Porombroto. If (actress) Manju Warrier was instrumental in getting me intrested towards malayalam cinema and eventually I learnt that language well, Parambrata had managed to make me look at the Bengali cinema curiously.

The script by Sujoy Ghosh and Advaitha Kaala is exceptional but it has its own flaws. Still 'Kahaani' is so engaging and enjoyable that your brain almost stops working / looking for logics when you are watching the movie. After watching when I had a re-run of what I saw, I had some questions like did police ever verify the veracity of Vidya's claim? What could be other reason than the shocking element for the killing of HR? All said and done, if Vidya carried "The Dirty Picture" in her b**bs, she had carried 'Kahaani' in her stomach and delivers a "healthy" child to the Indian cinema. At this juncture I heartily want to thank the director who threw her out of the Tamil movie "Manasellam" saying that she neither is beautiful nor could emote. Had it happened, she must have done inconsequential roles in Vijay / Ajit's movie. See what happened to the talent powerhouse of Tamil cinema - Anjali. Thankfully Vidya is saved from this situation.