Hai Guys, It had been a long time I had blogged. The London trip turns lonely and hectic than anticipated. In the weekends I go on sight seeing like a maniac and on the workdays returning to the hotel room by late. Still only way I keep entertained is by watching the stack of movies from my HDD. It was more like a linked process that one movie kindled the intrest on another for some remotely connected reasons. That's what made this movie watching a nice experience. After the count crossed five, I decided to make it as 'ten' a round figure. These are the short (4-5 lines) review of mine for these movies. For few movies, it can go still more longer.. but they deserve it. Leave your reviews in the comments.

1. Ajab Prem Ki Gazab Kahani (Hindi) - Believe me... The title sounds superior than the actual story line. Rajkumar Santhoshi returns to comedy terrain after his cult classic 'Andaz Apna Apna' and this time his fresh pairing of Ranbir Kapoor and Katrina Kaif worked wonders at the box office. It is a pure candyfloss no brains needed romance aided by the slapstick comedy, which sometime makes you cringe. There is nothing great in the story and infact it drags in the second half with Upen Patel's track. Despite its length and shortcomings, APKGK is a pure escapist / time pass fare. Go for it!!!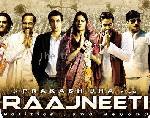 2. Rajneethi (Hindi):- The screenplay writer 'Anjum Rajabali' is the SOLE reason why I wanted to watch this movie. His screenplay in Khakee was so tight despite having a 3+ hrs running time in Rajkumar Santhoshi's "Khakee" & to large extent in APKGK. This "Mahabharatha meets Godfather" movie made an intresting viewing despite having 2:45 hrs running time. You can identify the characters and incidents from Mahabharata easily. Nana Patekar has a tremendous screen presence with least dialogues in "Krishna" like uncle character. Katrina Kaif shocks you with a deglam performance. Manoj Bajpai performs 'Duryodhana' role like a cake walk. Many scenes reminded of Kamalhassan's "Devar Magan" because 'DM' is also heavily "inspired" by Godfather. Quite surprising co-incidence that two high profilic directors were "remaking" the great Indian epics around the same time - Prakash Jha (Mahabharatha) & Maniratnam (Ramayana).

3. Rashomon (Japanese):- I first heard of this Japanese movie when Kamal Hassan's "Virumandi" was released. Akiro Kurosowa's "Rashomon" (1954) is a highly reverred classic that describes a rape & murder incident in 4 different versions. The bandit who was supposed to have raped the woman & killed her husband has his version of the story. The victims - raped woman & her husband (dead soul speaking via medium) have two more different versions and finally the witness has his own version. What makes the each version different from each other is their perspective. A must watch!!! After seeing "Rashomon" I downloaded "Vantage Point" and "Courage Under Fire" because they also fall in the same genre - different perspectives of a same incident.

4. Manorama - Six Feet Under (Hindi): The topic of this movie's original source - "China Town" came across while I was searching for reviews of "Rashomon". "Manorama" is an inspired ("plagarised") version with little / minor changes. Abhay Deol is an aspiring writer who was approached by Sarika to do a detective job. Little did Abhay realises that he is drawn into the web of deciets and lies. "Moustached" Abhay Deol is effective and Raima Sen is a breeze to watch. Gul Panag, Sarika and Khulbushan Kharbanda has little to do but make up with their strong screen presence. I whole heartedly recommend this movie. A really taut thriller!! I had downloaded the original - China Town (1974) but yet to catch it up again. See how things lead to another!!!

5. Karthik calling Karthik (Hindi):- The synopsis and the pre release hype lent an intriguing element to this story but when it unfolded on screen, it is reduced to a laughing stock. This had made a parody of MPD - Multiple Personality Disorder, rather than making it a discerning subject. Just because he had money to produce this movie, Farhan Akhtar had turned hero, else nobody else will take this fucker with sonorous voice and wooden face as actor. Deepika Padukone and the music by Shankar Ehsaan Loy are the saving graces. Even if somebody pays you for watching this, please stay away from this KCK.
6. Mr Singh and Mrs Mehta (Hindi):- MSMM offers a different take on the extra marital affairs. Aruna Shields and Prashant Nair get to know each other while following their respective spouses who have lurid affair but Aruna & Prashant eventually falls into a physical relationship. However there is no showdown or melodrama but the way they get over the infidelities is different. MSMM is replete with nude scenes of Aruna (ofcourse pixelated) and is bit shocking for Indian audiences. Ghazal like music is the best aspect of this 'London / Wales' shot movie. This movie made me to consider "Sindhu Samaveli" which is also based on illicit relationship, hoping that it would have been given a sensitive treatment.
7. Sindhu Samaveli (Tamil):- I was lured by a "paid" review that eulogised this movie a sensitive one in the lines of Bharathan's malayalam classic "Rathi Nirvetham". But this is actually a porn movie devoid of sex scenes and I feel shame to have downloaded this movie. Director claims that he had made this movie as such illicit affairs happen in real life. It is a perverted mind like showcasing the "shit" in living room just because everybody shits. Who gave these bastards like Saamy, Kasthuri Raja - a "moral police" role? Will this director's next movie will be an affair between widowed mother and her grown up son?

8. Koncham Ishtam Koncham Kashtam (Telugu):- This Siddharth - Thamannah starrer movie was chosen to 'null' the bitterness created by "Sindhu Samaveli". KIKK can be termed as an example for a 'feel good' movie. Beautiful lead players, rich plush houses, sophisticated characters and soft music... The movie starts like Khushi and ends up like a sentimental drama. First half is a love story and second half is a melodrama of uniting the estranged parents. Because of that I had a feeling of watching two different movies. The scene where Siddharth apologies to Thamannah is the most romantic scene I had come across recently.
9. Ambasamudhiram Ambani (Tamil): With Karunas as hero and "kuththu" songs played in the promos, I had a feeling that this movie will be a crude one. But surprisingly 'AA' is clean and entertaining. There is an evident honesty in the story telling and that appeals while watching. Navneet Kaur pitches in a decent performance as Karunas' wife. Even though not a classic, 'AA' is definitely something I can recommend for a leisure watch.
10. Vamsam:- Pasanga's winning of National Awards made me consider this Pandiyaraj's second directorial venture. Storywise it treads a beaten to death path but what keeps this movie far from the maddening crowd is its visuals. This is one of the authentic village movies which doesn't take the audiences for granted. In a way traditions galore in this movie. Debutant Arulnidhi gives an impressive performance. In other words Pandiyarajan had scripted the character to suit Arulnidhi's personality. Sunaina looks deglamourised but is let down by her weak characterisation. "Vamsam" is nowhere near to "Pasanga" but can be watched for it honest portrayal of village traditions.