I always keep looking forward for Kamal's movies because my first brushing with the malayalam movies happened with his Azhagiya Ravanan & Niram only. Oflate Kamal seems to be on off track with his worst - "Goal" and "Minnaminnikoottam", but for me he is still young at heart. His last movie "Aagathan" in which he teams up with his erstwhile assistant Dileep after a long time. "Aagathan" meaning "the one who came.." is quite an apt title. The movie goes beyond the mushy romance or tear jerker and the viewers can find it for themselves.
The movie opens so beautifully in Kashmir with the song "Manjnu mazha..." and manages to capture the essence of Kashmir in almost a single location. The brother - sister bond is beautifully established in that song itself.
The best things first - "Aagathan" is slickly shot in Pollachi / Ooty and Bangalore matching the sheen of any abroad locales. Ajayan Vincent's magical lenses makes the movie watching a pleasure experience. Simply mindblowing cinematography.
The movie is refreshing in the aspect of casting. The character artistes from other languages assembled for this movie definitely makes a welcome departure from the regular artistes in the likes of Bindu Nairs, Salim Kumars etc.
Next good thing is watching "lollu" Sathyaraj in a stern General Harichandra Varma with negative shades with aplomb. But my personal opinion is why he chose this role to have an entry in malayalam. Especially immediately after the suspense is revealed I got disappointed about his role. Also his voice being dubbed by somebody else had taken away a lot of his performance.
Zarina Wahab as the wife of Sathyaraj, even though without a solid author backed role, has a graceful screen presence with lesser dialogues. Valsala Menon as grand mother is always a delight to watch.
Charmi looks so good thanks to the magic of Ajayan's camera. Even though she gets a lengthier footage, her role has nothing much to do.
What was a talented actor like Inncoent doing in this movie? Casting him in a sidekick role is actually an insult to him. Another role played by Lal gives a feeling of already-been-there.
The next good thing is its length - a running time just close to 2 hrs.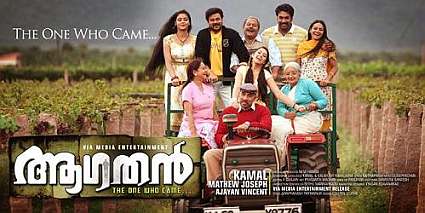 Worst thing follow - the movie loses its steam once Dileep reveals why he came into General's life. When you sit straight expecting for a deadly cat-mouse game nothing of such sort happens. The subsequent scenes keep dragging till the climax happens. A sagging second half is the culprit. Lack of good screenplay screenplay writers is evident. Here Kamal himself had taken the role of story, screenplay & dialogue writer.
Already people make fun of Kamal as "Bollywood"ish director in Kerala for the feel good looks of his movies. The movie reminds a lot of "Mission Kashmir" and "A few good men", especially with the monologue at the last but there is nothing like a direct lift kind of.
In this movie Kamal had moved away from his regulars in camera, music departments. For this movie he took Ajayan Vincent isntead of Sukumaran. His outing with Ousepachan after a long time is fruitful with 3 lilting melodies - Manjnu Mazha kaattil is easily the pick of the lot.
Even though "Aagathan" can't match Kamal's own past works, it is watchable if done without much expectations.
Some tidbits:- Before Dileep became an actor, he was assisting Kamal and his real name was Gopalakrishnan. The previous outings of Kamal and Dileep were damp squibs - Pachakuthira, Gramaphone with the exception of Perumazhakalam, in which Dileep had a cameo.
Mamatha Mohandas was supposed to he the female lead of this movie, since her "Passenger" with Dileep was a hit, but backed off 3 days before the actual shoot citing swine flu. It was rumoured that the actress was trying her luck in Mumbai at that time. Charmi was roped in instead. Few years back as a struggling actor Charmi had a malayalam movie name "Kaattu Chembagam" opposite to Jayasurya and her name then was - Kalyani.
When Kamal and Sukumaran decided to part for a change, Bhramaram was released. After seeing Ajayan's fantastic camera work in Bhramaram, Kamal zeroed in on Ajayan. Similiarly Ousepachan and Kamal worked together last before 12 years even though they stayed in touch regularly. Kamal is wondering why it took 12 years for them to get together in a movie.
I'll remember Aagathan as the first movie I saw in London, even though on DVD :-)