Follwed by a similar attempt in Hindi as "Dus Kahaniyan", noted malayalam screenplay writer & director Ranjit assembles a team of 10 talented directors to create a similar fete in Malayalam. These are 10 different stories with a common thread being that all the charcters pass through the Kerala Cafe, a cafetaria in the Ernakulam Railway Station. Beloved director Sathyan Anthikkad gives an introduction to this movie clarifying the general doubts of the public about this movie, in which the stories range from tear jerkers to thrillers. The cast is by a lot of prominent mainstream actors like Mamooty, Dileep, Prithviraj, Srinivasn, Siddique, Navya Nair, Meera Nandhan, Shwetha Menon etc. Quite a mentionable attempt at the Malayalam celluloid screen.
1. Nostalgia
Directed by: Padmakumar (Vargam, Vasthavam)
Cast: Dileep, Navya Nair
This opening story is about the hypocrisy of the NRIs who wax eloquence about their hometown, how much they miss the life back in India but turn completely irritable, complaining about the lack of facilities in India and their indifference towards their cultural heritage. Johnny Kutty (Dileep) is a selfish NRI residing in Dubai whose ring tone is a song about the life in Kerala. He comes to India on a trip convincing his parent to dispose the traditional "tharavaadu" to a realtor, putting his daughters in a residential school, promises his childhood friend Jose a job & clearing his debts but when Johnny Kutty is back to Dubai, he discards Jose conveniently. Quite a hard hitting drama driving its message concisely but strongly.
2. Island Express
Directed by: (Debutante) Shankar Ramakrishnan
Cast: Prithviraj, Rahman, Maniyanpillai Raju, Sukumari, Jayasurya
Quite a touching tale with few contrasting individuals like a handicapped but fiercely independent old lady, a cricket coach hurrying to buy a red night dress, a budding writer and his 'bindaas' editor, trying to make it to a place. Towards the end they all have a common thread - Island Express. When it is unraveled, it touches us.
3. Lalitham Hiranmayam
Directed by: Shaji Kailash
Cast: Suresh Gopi, Jyothirmayi and Dhanya Mary Varghese
What happens for a young lady, who is blessed with a happy marriage life, when her husband suddenly says that some other girl is sharing her life? Lalitha (Jothirmayi) faces the shock of her life when her husband Ramesh (Suresh Gopi) confesses his affair with Kiranmayi (Dhanya Mary Varghese). Now Ramesh is given an ultimatum to choose either Lalitha or Kiranmayi. This is one of the torn-in-between but a practical story with some nice performances by its lead players.
4. Mrithyunjayam
Directed by: Uday Ananthan
Cast: Shanu Fazil, Rima Kallingal, Thilakan, Meera Nandhan, Anoop Menon
This is included in this story just to have an another genre - thriller. Shanu lands in the "peculiar" place of Thirumeni (Thilakan) to find out the mystery. But he falls for Rima Kallingal's charm instantly and proposes to her. What happens next is this story... I was not bowled that much by this story.

5. Happy Journey
Directed by: Anjali Menon (Manjadikaatru)
Cast: Jagathy Sreekumar, Nithya Menon
This is one of THE best stories of this collection, where there is never a dull moment. Seeing a lonely un-named girl (Nithya Menon) in the night bus to Kottayam, a flirtatious insurance agent JK (Jagadhi Srikumar) makes advancements but finds himself entangled in the edge of danger. Recommended!!!
6. Aviramam
Directed by: B. Unnikrishnan (Balettan, Madambi)
Cast: Siddique, Shweta Menon
Aviramam tells about the effect of recession in an upper class urban couple. Siddique & Shwetha Menon are a happy couple (Shwetha reminds Siddique how badly he kissed her for the first time) and Siddique is packing off her & kids for a short vacation to in-laws house..... but with an ulterior motive. Bit predictable story but it sustains the curiousity to see how it unfolds on screen.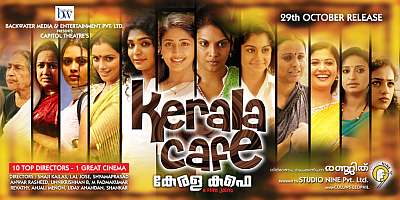 7. Off Season
Directed by: Shyamaprasad (Akale, Agnisakshi, Ore Kadal, Rithu)
Cast: Suraj Venjaranmood
Supposedly a comedy segment again in the backdrop of recession, it leaves a sense of disappointment considering that it was from THE Shyamaprasad. Suraj Venjaramood, picks up a foreigner tourist couple, dreaming to make great bucks but... the foreigners are already paupers and backpickers. Again I personally didn't luke / understand with this story, so let me skip.
8. Bridge
Directed by: Anwar Rasheed
Cast: Salim Kumar, Shantha Devi, Kalpana
The MOST touching story of the lot, so this is easily my pick of the collection. Anwar takes two stories from extreme strata of the society and establishes a parallel in between them. Aided with excellent visuals, Anwar combines the technical excellence and emotions to make this story telling a gripping experience. Touching performances by Salim Kumar and Shantadevi takes this story to an altogether different plane. Don't miss this one!!!
9. Makal
Directed by: (Actor) Revathy
Cast: Sona Nair, Sreenath
This is a simple & straightly told tear jerker about human trafficking in the name of adoption. This story, set in the poor Tamil family of Nagercoil, starts with the day of 14 year old Lakshmi being sent to her adopted parents. We are ensued with enough tears and melodrama associated with the final adieu but the last scene shocks us. This is a touching story which, but on analysis, travels in the cliched way of making.
10. Puramkazhchagal
Directed by: Lal Jose (Meesha Madhavan, Arabikadha)
Cast: Mamooty, Srinivasan
Puramkazhchagal (Exterior visuals) is also a best story of the pick, that's why it had been allotted the grand finale slot. Mamooty comes across as an irritable passenger for Srinivasan who in turn gulps up the unfortunate incidents happened in his life. On the other hand Mamooty gets more irritable and wild but in the end, everything perceieved about him shatters in a fraction of second. The Srinivasan's flashback provides a perfect foil to the cold nature of Mamooty. A must watch!!!
The best part of this Kerala Cafe is that it is not bogged down by the commercial pressures despite having the mainstream stars in it. Also it had given the creative freedom for the directors who are chained by the commercial cinema. Example. Anwar Rasheed has been associated with mindless commercial blockbusters like Rajamanickam, Annan Thambi but he had made a touching "Bridge". Similiarly one associates Shaji Kailash for high voltage actioners like Commissioner, Aaram Thamburaan etc, but he had made a simple infidelity story - Lalitha Hiranmayam. Or even Shyamaprasad who makes heavy duty stuffs had tried his hand at comedy. Even though we can't term this "Kerala Cafe" as a modern classic, but we should definitely appreciate the efforts that had gone to create something novel & refreshing. After seeing this movie I am looking forward to watch its Hindi predecessor "Dus Kahaaniyan"!!!