This weekend got me catching up with some backlog movies which had been a while after downloading. Thankfully the movies were in diverse genres - a cult classic Love Sex Dhoka (Hindi), realistic Rithu (malayalam), fast paced Passenger (malayalam) and a supposedly romantic comedy Bodyguard (malayalam), so I didn't have a fatigue in watching them all together. Why no Tamil movies for me? I seriously want to watch "Angaadi Theru" but I fear that its stark reality might depress me. Anyway no point in escaping from the reality, so I have pushed it for sometimes next week. And.... I don't want to commit suicide by watching MD's Suraa because I have so much of aspirations to do in my life.
Love sex and Dhoka (Hindi / 2010)
:- I read somewhere that this is the first time that the word 'Sex' is featuring in a mainstream Bollywood movie. Dibakar Banaerjee's attempt in creating a digital movie from simple webcam / security camera effect is quite laudable. LSD is an episodic film with three separate stories which have the themes of Love, Sex and Betrayal. For love there is a mushy romance between the budding director and his leading lady and their tragic end. A night shift employee makes his colleague a victim to have 'sex' in the security CCTV and sells the footage to make money which forms the Sex episode. A sarcastic take on the sting operartions by the private channels whose concern is only the TRPs but not the justice to the victims, which is the third episode. Dibaker Banarjee brings out the vouyeuristic side of the society in this movie. It takes a while to get adjusted to the "webcam / CCTV footage" effect but that helps us in getting hooked to the lives of the protagonists. Also the all newcomers cast works for the advantage of the movie. Some might find it shocking while some might it disgusting but LSD is a mirror or documentation to the current society scenario.
Bodyguard (Malayalam / 2010)
:- The movie that was written by Siddique, keeping "Maattu Doctor (MD)" Vijay in mind, made in malayalam before Tamil version is ready. This is evident in each shot with a larger than life persona of the hero. The screenplay is typical Siddique's - with a pre-credits episode explaining the behaviour of the protagonists & a 'twisted' climax that zooms past from the rest giving a way for flashback of how the twist happened. However this time Siddique fails with a confused / sagging second half and the climax is directly lifted from "Aniyathipraavu / Kadhalukku Mariyadhai" and "Kuch Kuch Hota Hai", with then and there reminding Prithviraj's superhit "Choclate (2008)". Seems Vijay's son is gonna do the Hero's son's role towards the end. Dileep is as usual in his slapstick comedy whereas Nayantara looks jaded and insipid even though she had a longer footage for a commercial heroine. I can't believe that this movie movie is from the same Siddique who had wielded some classics like "Ramoji Rao Speaking", "Godfather" and "Vietnam Colony" in the past. No wonder it flopped in malayalam and hope its tamil version meets the same kind of success at Tamilnadu Box Office also. Give it a miss!!!
Rithu (Season) (Malayalam / 2008)
:- As far as I know this is the first "real" film on IT folks. There could have been other movies with IT industry backdrop but "Rithu" stands apart from them with the make to believe characterisations and situations. "Rithu" doesn't take the cliched path of portrayal of IT professionals as reckless, immoral and spendthrifts. Instead it takes on the values and pains the IT professionals have, the kind of success and money they see in the very early life affecting their life's value system, the misplace priority of work over the family, its consequences and the unrealised dreams of adoloscent ages as they are being pushed into this industry by the paremts for its "miniting money" potential. Sharath, Varsha and Sunny are the childhood friends who reconnect after a break of few years. But it takes a while for Sharath to realise that the friends are not the same and their life is not as simple as what was earlier. Changes are there as the seasons, but do people need to change? Thats what its director Shyamaprasad puts forward to the audiences. Rithu is enhanced by the raw talents Sharath (Nishan), Varsha (Rima Kallingal) and Sunny (Asif), out of which Nishan makes a mark. Rima is sultry and can be expected to break into Kollywwod / Bollywood soon. Rithu has its share of social responsibilities too. Shyamaprasad brings to fore the pains of farmers whose lands are taken away forcibly for the glossy IT parks and insulted with menial jobs in turn. Rithu is a lovely movie, with a music video feel at someplaces, which I can easily recommend to all of you. Also the english - malalayam dilaogues will be easily connecting for non Malayalee audiences.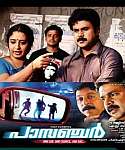 Passenger (Malayalam / 2009)
:- Another movie from Malayalam, which I had been wanting to see since last year. This got released when I was in Dubai for the project but couldn't take sometime to see that movie in Palace Cinemas in Deira. 'Passenger' is a fastpaced movie devoid of commercial elements like romantic tracks, comedy track and item number. The plot is simple and taut - A common man who realises his strength to go to any extent to foil a terror bid by corrupt politician. One day Srinivasan misses his regular stop as he sleeps extra in his train journey. There he meets Dileep who is kidnapped by some goons and how he manages to save him from the clutches of a corrupt politician Jagadhi Sreekumar is the rest story. Since the whole movie takes place within few hours, the debutant director Shankar had managed to maintain the tempo in the screenplay. Mamta Mohandas as TV Journalist wife of Dileep makes a mark in this movie. A nice movie for a quality timepass. A regretful news is that it is being remade in Tamil as "Muriyati (முறியடி)" with Sathyaraj, Ganesh Venkatraman and Ramya Nambeeshan in lead, being directed by Selva!