"Sometimes not seeing the original version of a movie can be good". That is what I felt when I saw the Ram Gopal Varma's Indianised take of famous Hollywood cult classic "Godfather". I had heard a lot about that movie inspiring a lot of directors, many of my friends had told that the novel was still more superior. But I don't want to take away the credits from this Indianised version. While seeing the movie I noticed the similarities in other "inspired versions" - Maniratnam's Nayakan had more of it in the second half and almost all over in Kamal Hassan's "Devar Magan". While seeing "Sarkar" I realised the sway Big B, has over the medium, I wished Ram Gopal Varma make more movies as director, not as a producer.
Sarkar is about Subhash Nagre (Amitabh Bachchan) a good doer, who is above the law and system. His elder son Vishnu (Kay Kay Menon) turns out to be a prodigal one who goes against his father, while younger & sombre Shankar (Abhishek Bachchan) is not involved in Sarkar's activities. conspiracies and subsequent situations make an attempt on Nagre's life until Shankar takes things on his hand and saves his father.

Ram Gopal Varma, on the credits itself, confesses that it was his tribute to Francis Ford Coppola's Godfather. A smart way to silence the critics and a clever marketing strategy. You sit with an expectation, and Sarkar didn't disappoint you either. Being this his ambitious venture, Varma just concentrates on the story only, unlike his previous ventures that had a meander wandering plot and a commercial gloss. A crisp and slick made film, which had just story, no unnecessary scenes, atleast to "prolong" the movie (This is just a 12 reel movie). What made me sit up and watch "Sarkar" is its stylish way of shooting and a dark lighting, that sets its brooding mood (Cinematography by Amit Roy).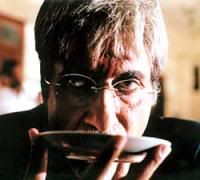 Amitabh Bachchan is the soul of the movie. Don't know whether he managed to look so fragile for the movie, or the way in real life also, his presence is simply awe inspiring. I would say this is more of a RGV's tribute to Amitabh on whose movies he had grown with. In a larger than life character, this veteran is a classic. My favourite pick is the hospital scene when he finds himself in a helpless situation, knowing about his eldest son joining hands with the enemies. His pristine expressions are what I loved.

Abhishek Bachchan is becoming a revelation. I always believed that he was a pampered star kid, but "Sarkar" affirms that he has talents in his genes. As a loveable son who is drafted into his father's profession, Junior B is most convincing on his part. Kay Kay menon as Vishnu, the elder son steals the show under eveyone's nose. But in a dynasty driven industry, sorry that these talented actors never make it to top, but ending up in supportive roles.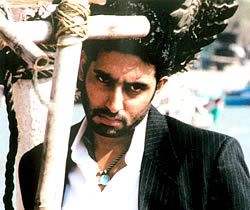 Since this is a male centered movie, all the female characters are given a back seat. But every small character is well etched that nobody had been relegated to a junior artiste level. My favourite pick among the lot was Tanisha, as Avantika, who has a crush on Shanker. This girl needs a good director to bring her talents & present her well. Supriya Pathak, as Subhash Nagre's wife evokes resepect when she is on screen. Katrina Kaif, as Shanker's heart throb Pooja has a beautiful screen presence. RGV's current muse Nisha Kothari sparkles in the small part as movie heroine. Rukshaar as Vishnu's wife carries herself with aplomb and dignity.

Ram Gopal Varma is the first of very few who dared to keep songs away. In "Sarkar" he simply had avoided songs as they might have hampered the slick pace of story telling. Music composer Amar Mohile, has sustained the dark and brooding mood through out with his haunting background score. The track "Govinda" just sets the tempo high on action scenes.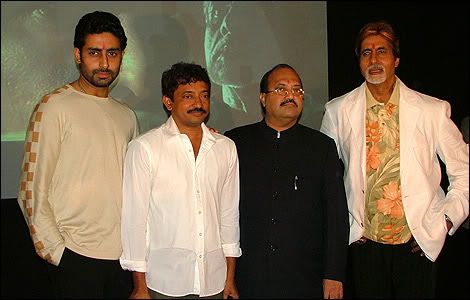 One thing I kept wondering was - How Ram Gopal Varma, an Andhrite by birth & brought up in Hyderabad, managed to make the movie with a strong Maharashtrian flavour? He portrays the powerful patriarch family so convincingly as it it is real. No matter however bigger stars it had, you never get a feel of their stardom, instead the hang over of the characters. Even though I catched up "Sarkar" late, I am glad that I did it atlast. As said earlier, let RGV concentrate on making such mindblowing movies as a director, not as a assembly line film producer.